---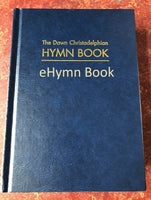 Dawn Christadelphian Hymn Book - Digital edition.
Regular price $7.00
Tax included.
Shipping
calculated at checkout.
Dawn
Christadelphian
Hymn Book
- 2012
Digital edition
Selections from the metrical Psalms of David,
Hymns by various authors, in harmony with the truth and Anthems based on the words of Scripture.
531 pages
Scriptural index and index of first lines 
..