---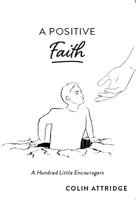 A Positive Faith
Regular price $6.00
Tax included.
Shipping
calculated at checkout.
A Hundred Little Encouragers
Colin Attridge
Faith is one of our greatest assets. The idea behind the one hundred 'little encouragers' in this collection is to help make and keep your faith more positive. And that they will continue to do so when you return to them, as hopefully you will. They are a reminder, especially in troubled times, that the gospel message is one of good news. As we say at the outset of the book, 'With a positive faith you can be realistically hopeful of your life right now and in the Kingdom to come'. 
Some of the pieces have been tweaked or extended a little, but they are all more or less as they appeared in the Dawn Magazine from 2012–2021.
146 pages A5