---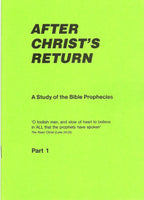 After Christ's Returm - Part 1
Regular price $1.00
Tax included.
Shipping
calculated at checkout.
A study of Bible prophecies which have yet to be fulfilled.
Philip C Ridout
Arranged in groups, in approximate  chronological order, to show their importance as a guide to a right understanding of God's revealed purpose; to correct many widely-held errors of doctrine and, above all, to stimulate faith and hope in the Unchanging purpose of God. 
Cover colour may vary.