---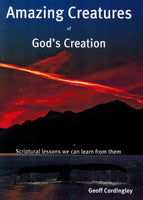 Amazing Creatures of God's Creation
Regular price $5.00
Tax included.
Shipping
calculated at checkout.
Geoff Cordingley
Amazing creatures of God's creation. Scriptural lessons we can learn from them. 
"As Christadelphians we are impressed by the miracles of creation around us. Unfortunately non-believers, often filled with evolutionary ideas, do not share our beliefs regarding creation as outlined in the early chapters of Genesis. It is not enough simply to state that the works of nature are miracles. in this sceptical age, statement has to be accompanied with scientific proof that cannot be gainsaid. Such proof is now available for all to access. It takes the form of information science."
72 pages