---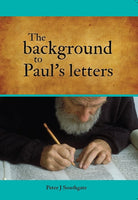 Background to Paul's letters, The
Regular price $8.00
Tax included.
Shipping
calculated at checkout.
Peter J Southgate
A5 94 pages
The objective of this book is not to provide a detailed exposition of Paul's letters. Rather, as the title suggests, the aim is to explore the background of each epistle to fit them into Paul's great work of preaching the gospel and maintaining the spiritual life of his converts.
Each epistle will be examined:
• to uncover aspects such as the time when the Apostle wrote the letter
• to determine who the recipients were and what were their circumstances
• to establish what prompted Paul to write the letters and, where possible, to assess the recipient's response.
These details, along with how the writing of the letters fits into the events recorded in Acts, throw light on the message that Paul wanted to get across.