---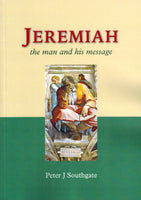 Jeremiah the man and his message
Regular price $6.00
Tax included.
Shipping
calculated at checkout.
As the author explains, although Jeremiah is often described as a "prophet of gloom and doom", he ill deserves that reputation. He lived in difficult times and had a difficult message to convey to a difficult people, during which his innermost thoughts are revealed. He was a man who loved his nation, and it pained him greatly as he saw it slide into national and personal catastrophe. He also lived in an era
of great change: the world of Jeremiah's youth being very different from that of his old age. Many parallels with today's difficult and changing times make this book a most suitable and profitable study.