---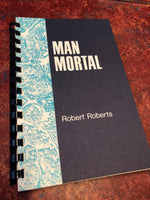 Man Mortal
Regular price $3.00
Tax included.
Shipping
calculated at checkout.
Robert Roberts
Man Mortal: 
Being a reply to Mr F W Grants "Life and Immortality"
A book wherein that Gentleman seeks to overthrow an important element of divine truth, under the name of "Annihillationism."

A reproduction of an original by The herald press, Houston, Texas. 
112 page comb bound book.