---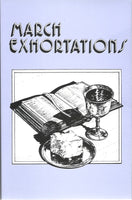 March Exhortations
Regular price $8.00
Tax included.
Shipping
calculated at checkout.
Monthly Exhortations - March
Various
An exhortation for each day by Christadelphian authors
The word "Exhort" indicates to call aloud, to admonish, to urge forward so that we may be prepared for Jesus' coming; hence the command to "exhort one another daily" The series of twelve books, split into the months of the year, contains an exhortation for each day of the year. The June edition contains an index to the first six months of the year while December contains a full subject and scripture index to the series.