---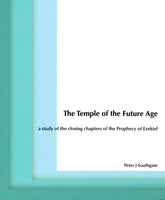 The Temple of the Future Age
Regular price $10.00
Tax included.
Shipping
calculated at checkout.
Peter J Southgate
A Study of the closing chapters of the Prophecy of Ezekiel
A comprehensive study that makes suggestions for aspects of the temple yet to be built in Jerusalem, including its location, design, the worshippers, its ministers and functions; culminating in the cherubim of the glory of God coming to reside in the building.
Every effort has been made to interpret the details given to the prophet Ezekiel in harmony with the context and the rest of Scripture.
112 pages, illustrated with diagrams and maps.