---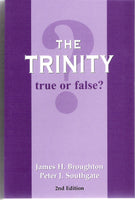 The Trinity true or false?
Regular price $10.00
Tax included.
Shipping
calculated at checkout.
James H Broughton 
Peter J Southgate
2nd edition
The doctrine of the Trinity is the result of developments that took place mainly in the first three centuries after Christ. This is a challenging book. It should be read by everyone who has the interests of Christianity at Heart.
Paperback Book - 407 pages