---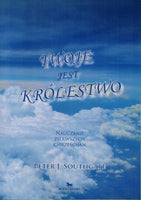 Twoje Jest Królestwo
Regular price $2.00
Tax included.
Shipping
calculated at checkout.
Twoje Jest Królestwo
Nauczanie Pierwszych Chrześcijan
Thine is the Kingdom
Peter J. Southgate
Translated into Polish and published in Poland 2012
Nie ma watpliwości, iż Królestwo Boże bylo orzedmiotem nauk Jezusa, gdy przebywal na Ziemi przed dwoma rysiącami lat. Ta książka jest próbą ustalenia pierwotnego znaczrnia Jego nauczania na ten temar, tak by stalo się ono centralnyn punktem zycia chrześcijan.