---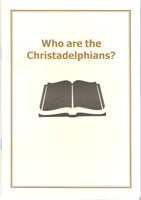 Who are the Christadelphians?
Regular price $1.00
Tax included.
Shipping
calculated at checkout.
Many believers sine the time of the apostles have held the same faith as we do. There have been many independent communities throughout the world, which have studied the Bible and accepted its simple message.
The modern Christadelphian movement originated in the 1840's in the USA and the UK.
A Free Booklet examining the following aspects of the Christadelphians-
Who are they?
What does the name mean?
Their Beginnings.
Their way of life.
Their Beliefs.
What does this mean for you?
A5 format booklet